Hello, My Love,
Your dad and I went to Costco last night to get some dog food and while I was waiting for my pictures to be printed, we walked around to see what they had. I was like a kid in a candy store! I was truly surprised to see how much organic stuff they had! I didn't look at every last thing in the store but the things I saw were:
Organic milk - 1% (which is what we drink) We usually get a half gallon of the store brand of organic milk and it usually runs $3.89. Costco had three half gallons for $7.98 (or close to that). Needless to say, we grabbed it!
Organic BBQ sauce
Organic cereals. I saw some Flax cereal (sorry, but I love my Golden Grahams!) but they also had some granola that was pumpkin flavored that sounded pretty yummy.
Organic soups and broths.
Organic pop tarts.
Organic rice krispy bars.
Organic olive oil.
Environmentally friendly laundry detergent. I was planning on getting some by Seventh Generations since my food store (Shoppers Food Warehouse) carries it and Seventh Generation's website (http://www.seventhgeneration.com/) usually has coupons to print out but now I can get it from Costco for cheaper!
Environmentally friendly hand soap refill. Babies R Us carries Method (http://www.methodhome.com)/ hand soap dispensers so now we can buy the refill soap!
I know there was more but I'm having a mental block. Anyway, today I went to Rite Aid and found some organic make up. I am currently using an organic tinted moisturizer and I love it. It's never cakey and you can't tell I'm wearing anything. I also have an organic bronzer...love that, too.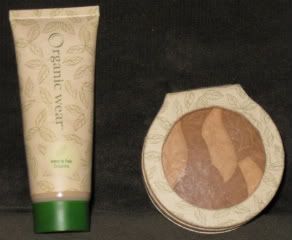 So, today I bought some organic eye shadow and eyeliner that is made for hazel eyes.

I also found earth friendly make up brushes! I was due for some new ones as I've had the ones I currently use for too long. These new ones are made from bamboo and "cruelty-free hair."


Plus, they were on sale for buy one, get one half off, so I saved some green as well!