Hello, My Love,
So, I was going to write this long tirade about how much I love Halloween and how disgusted I am about how most girls use it as an excuse to dress like whores and if you are a girl, I would hope you would have more respect for yourself than that but instead I am writing to you about a man you will unfortunately never get to meet.
Your grandfather, Chuck Foster, passed away very early yesterday morning. He was 58 years old. Needless to say, we are devastated. It was very unexpected. All the details are fuzzy because he was in China on business and he won't be returned home for 10 days. As of right now we believe he had a heart attack as he had high blood pressure.
My heart aches for my mother-in-law (your grandmother). They always behaved like high school sweethearts. They always held hands and acted lovey dovey. I hope I never have to experience what she is experiencing right now. I can't even begin to understand that kind of loss.
Your grandmother and grandfather at our wedding. September 3, 2005.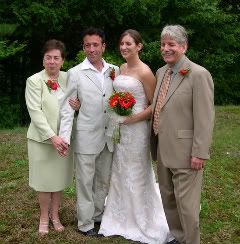 When I first heard about it, all I could think about is how you would never get to meet him. He was such a kind and gentle person. And generous. And full of life. And smart as a whip. And chock full of bore-you-to-death stories. As much as I dreaded hearing the same story for the umpteenth time, I will miss them immensely. I am sad for you because you will never get to hear them.

Your grandfather was a "Chuck" of all trades. He was a pig farmer, an L.A. cop, a metallurgist and most recently an engineer for a power company. He knew everything about everything. My mom (your other grandmother) made the mistake of asking him how to castrate a pig once. That story went on for days.

Occasionally, his work would bring him to Maryland (he and your grandmother live in California) and usually he would visit with us. One time, he took us out to dinner (on the power company, of course) and he told another classic "Chuck" story. At one point in time, before he married your grandmother, he lived with a Hispanic guy and he told us how they "joked" about what they would have for breakfast every morning. Huevos and Chorizos? OR Chorizos and Huevos? Completely unfunny story but that was Chuck. Unfunny. Man, I'm going to miss him.
The last time we saw him and your grandmother was in January when we went to visit them in Mexico where they were supposed to retire. They had bought some land to build on and had also bought a condo so they could be there to supervise the building of the house. Chuck was semi-retired and spending part of the year in Mexico and part of the year in California, working.

Not that it matters, but Chuck is not your grandfather by blood but he is the only person your dad considers to be his father. Your dad's dad left when he was 10 or so and Chuck married his mother a few years later and was more of a father to him than his birth father could ever be. When your dad was much older, he changed his name to honor his "step"father. A man who he considers his father. By this time your dad had cut off all ties with his birth father. He wanted nothing more to do with him. I can't say I blame him. He left your grandmother with four young children so he could go off with another woman. I guess he made his bed and is now lying in it.

Your grandfather has 2 or 3 daughters from previous marriages but no sons, so for your dad to take his last name was quite an honor for him. It was my hope to carry on that last name with you. I wish he could have met you. I wish he could have held the next generation of Fosters in his arms.

As soon as we find out more details about when the funeral will be we will have to make plans for flying out to California. I'm excited to go back but I wish it was under happier circumstances. Who knows? Maybe I will have some happy news to share when we are there....