While browsing through my favorite Goodwill (the SUPER Goodwill, if you will) on Super Saturday (all clothes are 50% off) I stumbled upon this shirt and my jaw nearly hit the floor.
Yes, this is a CHILD'S t-shirt.  What are we bringing up our children to believe???  That money is the end all be all?  That it's ok to be with a man (or woman) only for their money?  I guess it's a good thing it was donated to Goodwill but I think it would have been better off burned.
I did happen to find a bunch of baby clothes, a few t-shirts for me, a funky duvet cover for our bed and a bunch of yarn.  Not sure what I'll make yet but they were nice colors and only $.50 a ball so I'm sure it will be put to good use.
In other shopping news, while I was working (at the baby superstore) I was putting away some blankets and noticed that the ENTIRE collection designed by Amy Coe was 75% off!  If you haven't seen her stuff, it's kind of modern with lots of bright colors.  I don't know why it was being clearanced, probably because they are discontinuing the bedding line maybe?  Anyway, I scooped up this bedding set:
You can't really see the bedding but it's white with brown circles on one side and brown with white circles on the other side.  The bumper is brown with white circles.  Up close it looks like this:
I also got 4 brown fabric covered storage bins.  All for $57!  I really wanted to make my own stuff but I couldn't have made it for that cheap!  On the plus side, the set came with a comforter with a duvet cover so I could always make another cover if I wanted a little change.
My new plan for the nursery (you can read about my old plan here) will be yellow walls….something like this shade:
I want to paint the crib either a shade of red like this:
Or a shade of turquoise like this: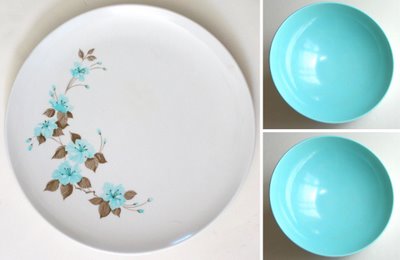 I just love that shade of turquoise.  I found these pictures through a google image search and the last one was on a blog whose owner sold stuff on Etsy.  If they hadn't already been sold, I might have scooped them up myself!
Even though I LOVE red, I'm thinking the turquoise will look better with the yellow and brown (from the bedding set).  It will be gender neutral and definitely NOT babyish but still cute (in my opinion anyway, which isn't worth much).  I'm not big in to the whole pastel colors for babies.  Just not a huge fan.  Unfortunately, there isn't much of a choice for colors outside of pastels when it comes to baby clothes.  I do have a couple of patterns for baby clothes but haven't made anything yet.  When I do, you can be sure that it won't be pastel.