The orientation/information session about foster care and foster-to-adopt care was tonight. A lot of the questions I had were answered but I still have more. Overall, I am still interested in pursuing it but I think Courtney is still hesitant about it. We need to sit down and discuss it to see if it is what we want to do.
In other, but similar news, I've been stocking up on baby stuff. Can I just say how much I LOVE
Craigslist!
I am bordering on obsessed. So far, I've bought a travel system for $65 (a Graco Quattro something or other...I just loved the pattern and the reviews just happened to be good...lol), a crib for $125 (converts to a toddler bed and then full size bed) and a moses basket for $15. I'll post pictures soon. I'm thinking about painting the crib. Something bold and bright like fire engine red or turqouise. Hmmmmmm.....we'll see. I also plan to make new covers for the pads in the moses basket. Once I decide on the bedding (which I plan to make) and the theme of the nursery, then I will figure out if I want to go through the trouble of painting the crib.
Since spring is kind of in the air, it seems that yard sale season has begun! I don't know about you but I love going to yard sales. Most of what I find is just junk but every once in awhile I find some keepers. This weekend I got a new soccer ball for my dog.
He really loves his soccer ball.
Courtney is usually the one who plays soccer with him. But sometimes he doesn't want to play.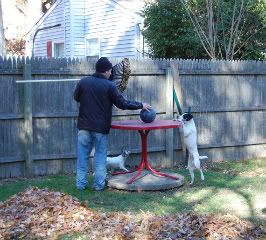 Beaker doesn't care. He just wants to play soccer.
When I got home with the new soccer ball, Courtney and both dogs were still in bed and Beaker was so excited to see his new toy, he flew out of bed to grab it and tried to run out the dog door with it but it didn't fit. Too funny.
His second love is his frisbee. He is partial to the ones from Old Navy.
After an afternoon of frisbee, Beaker is exhausted.
So is Penny. She doesn't really care about the frisbee, though. She just likes running after Beaker.
I found some other random stuff but the soccer ball was the highlight. At least for Beaker.